PS6210
Two chassis's sizes are available with the following configurations
4U 3.5" - 24 x 3.5" SAS drives
PS6210XV - 24x 600Gb 15K
PS6210E - 24x 2, 3, 4 TB NL SAS 7200 rpm
2U 2.5" - 24 x 2.5" SAS drives
PS6210S - 24x 400 or 800 Gb SSD
PS6210X - 24 10K drives ( 600G, 900G, 1.2T)
PS6210XS - 7x 400 SSD + 17x 600Gb 10K
- 7x 400 SSD + 17x 1.2T 10K
- 7x 800 SSD + 17x 600Gb 10K
- 7x 800 SSD + 17x 1.2T 10K
PS6210S - 24x 400 Gb SSD
- 24x 800 Gb SSD
Supported drives: All drives require unique Equallogic firmware.
Version 6 firmware and higher support RAID levels 6, 10, 50
Editors note: RAID 5 removed in order to increase reliability
3, 4, 6 Tb NL-SAS drives - RAID 50 is not a RAID option
Firmware upgrade path thru version 9 series is assured
16 max members in one group
Max of 384 drives and 1.5 PB in a group

Dimensions:
4U 3.5" chassis - 6.9 x 17.6 x 22.8 inches, weight: 103 pounds with 24 drives installed
2U 2/5" chassis - 3.4 x 17.6 x 21.5 inches, weight 58 pounds with 24 drives installed

Standardized chassis
2U PS6210 series - 2 x type 18 controllers
2 x 700 watt power supplies. Autoswitching 120- 240 Volts AC, 50-60 hertz
Requires 3 amps at 120 volts ( 5 amps required for cold start up)
Backplane: 24 2.5" drives with Equallogic trays supporting specified size SAS drives
4U PS6210 series - 2 x type 18 controllers
2 x 1060 watt power supplies. Autoswitching 120- 240 Volts AC, 50-60 hertz
Requires 4 amps at 120 volts ( 7 amps required for cold start up)
Backplane: 24 3.5" drives with Equallogic trays supporting specified size SAS drives
PS6210 controller
Type 15
16 Gb cache per controller
Only two ports of the same type can be used at once!!!
You cannot use one SFP and one RJ45 port at the same time..
2x 10Gb SFP ports
2x 10 Gbase-T RJ45 ports
1x management port RJ45
1x serial port DB9
2 IP addresses needed per chassis for ports eth0 thru eth1
Only one controller is active at a time. The other controller is purely a standby until failover occurs.
Controllers will fail over from primary to secondary, corresponding IP addresses switch automatically.


PS6210 4U 3.5" chassis rear view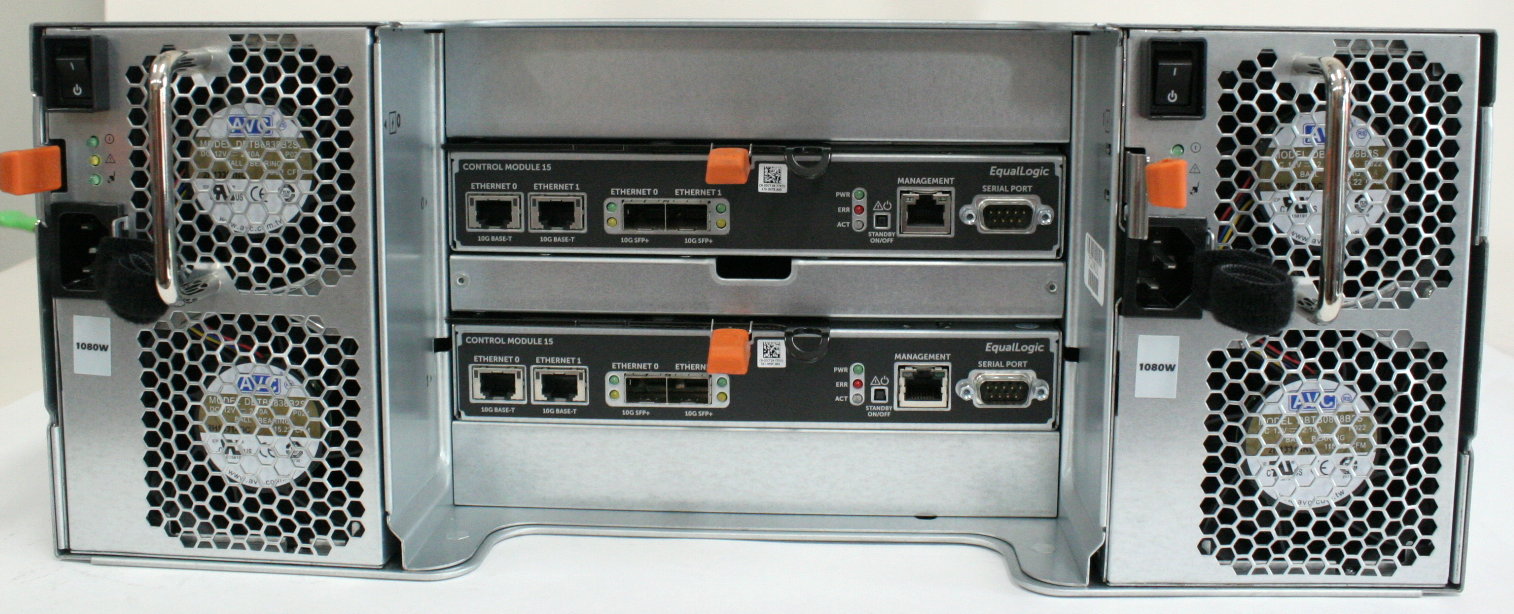 PS6210 2U 2.5" chassis rear view